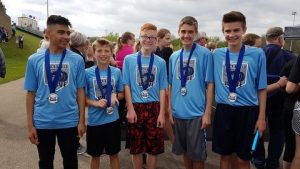 In addition to a robust music program, Westside Christian School offers a number of extracurricular opportunities for our students.
Athletics
Westside Christian School offers an organized athletic program for children in grades 4 – 8. The goal of the program is to develop students' athletic knowledge and skill. Teamwork, dedication, and Christian sportsmanship are stressed at all times. Basketball, volleyball, soccer, track, and cross country events are scheduled with area Christian and private schools.
Fine Arts Opportunities
Fine Arts Fair
Art Fair
History Fair
Math Meet
Science Fair
Praise Choir (Click here to view a video of the Praise Choir performing at Lakeside Lutheran High School's Fine Arts Fair.)
Forensics
Our forensics program competes against other schools. Students have the opportunity to perform in various public speaking categories such as poetry, storytelling, demonstration, etc.
Geography Bee
Each year, Westside Christian participates in the National Geography Bee along with thousands of schools across the United States. The contest is designed to spark student interest in the subject and increase public awareness about geography. Students in grades 5 – 8 participate in this entertaining and challenging test of geographic knowledge.
Spelling Bee
Students develop their spelling skills through school, local, and regional competitions.
Musicals and Plays
Students also have opportunities to participate in musicals and plays as well as help design sets and stages. A performance is scheduled each year.